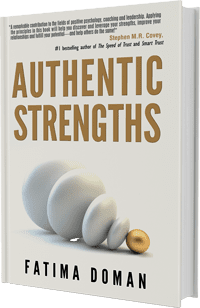 Authentic Strengths
Can happiness and optimal performance be learned? Positive psychologists say "yes!" As decades of research and hundreds of studies have now shown, people who express their strengths tend to be happier, engaged, energetic, resilient, less stressed, and higher achievers.
Jewelers spot diamonds in the rough. Art dealers identify potential masterpieces. Coaches groom stars and create the conditions for people to flourish and soar. Drawing on the best from the science of positive psychology and from her two decades of experience coaching and training executives around the world, Fatima Doman has created a three step coaching process that can transform a dedicated learner into a star performer. Whether coaching yourself or others, Authentic Strengths enables sustainable, transformational change. You will learn the tools designed to explore, empower and engage your strengths―all while honoring the strengths in others.
No one reaches the top without being led or carried part of the way. Authentic Strengths will help carry you to your highest peaks―your best self. This book will bring out the best in you and in those you seek to positively influence.
"This is not simply a book – it is a powerful catalyst for positive and lasting change."

Jane Wundersitz, CEO and founder WunderTraining Australia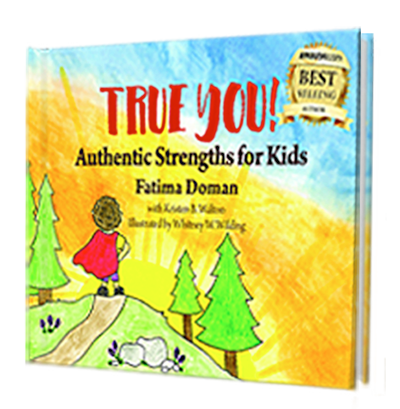 True You: 
Authentic Strengths for Kids
As decades of research has shown, children who express their character strengths tend to be happier, engaged, more resilient and higher achievers! This book helps children discover their strengths and learn how to use them consistently. Consider the profound positive impact on a child's learning and overall development once they know what their best qualities are. The qualities that, when nurtured, can lead to good outcomes in every aspect of their lives. Developing an awareness of these strengths helps children to focus on "what's strong" instead of "what's wrong." True You! Authentic Strengths for Kids opens up a vital pathway to engagement―at school, in relationships and in life, bringing out the best in the children you seek to positively influence!